Mark Kravitz, US District Judge
oil on canvas, 38"x54", 96cmx152cm
Hi Daniel,
I wanted to tell you once again what a wonderful portrait you created of Mark. I was simply taken aback with the real thing even though I had been informed and saw sketches while it was developing. Still, I was not fully prepared for the subtly eloquent result. Of course, nothing compares to seeing a painting "in the paint"! You captured his likeness but more importantly, his pride, respect and joy at what he did as a jurist. Thank you for your skill and for the attention you gave to learning very rapidly who Mark was, and what others thought of him to inform how you would paint his portrait. It made all the difference in the result, I think.
When you unveiled the portrait last Tuesday, I was captivated. I was so glad we chose the background in that great hallway, for one. It allowed for a lovely light to be infused into what I often see as dark offices or courtrooms in other portraits, and gives an uplifting lightness. Then, Mark just seems to pop off the canvas with that background and is so true to who he was! My children were enthralled.
After his memorial service this past Saturday, about 30 family members went to the court to see the portrait and have a quick tour of his old spaces. They, too, were so pleased by the portrait. Our Thanksgiving started the week before with this wonderful gift. Thank you.
–Wendy
Click here to see Wendy Kravitz viewing the portrait at the unveiling
"I was inspired and moved by a recent unveiling of his portrait, commissioned by the Connecticut Bar Foundation, which will be hung in New Haven's Federal courthouse. I invite my Senate colleagues to join me in paying respect to Judge Mark Kravitz and sending condolences to his family, friends, and colleagues, who mourn his loss, and remember a man who made his life's work contributing to the world around him. "
–Richard Blumenthal, United States Senator
Sally Blount, Dean, Stern School of Business
oil on canvas, 44"x56", 112x142cm
Frederick Choi, Dean, Stern
oil on canvas, 32"x44", 91x112cm
Barrington Daniel Parker Jr, Judge, United States Court of Appeals
2016, oil on canvas, 36"x48", Yale Law School.
John E Sexton, President Emeritus, NYU
David D Addario, CEO, Wise
oil on canvas, 30"x40", 76x101cm
Charles Reich, Yale Law School
oil on canvas, 38"x58", 96x147cm
Fay Vincent, Commissioner of Baseball
2016, oil on canvas, 32"x44", 91x112cm, Yale Law School
James Thomas, Yale Law School
oil on canvas, 44"x60", 112x153cm
Patrick Harker, President, University of Delaware
oil on canvas, 38"x50", 96x127cm
Richard Revesz, Dean, NYU Law School
oil on canvas, 46"x54", 116x152cm
John H. Langbein, Sterling professor of Law and Legal History, Yale Law School
Jose A Cabranes, Judge, US Court of Appeals
oil on canvas, 32"x46", 91x116cm
It has been our pleasure, Dan. The portrait is now hanging, and it's all I can do to not pop in the room every half hour! What a terrific portrait this is. It adds yet more Dan Duffy luster to the Alumni Reading Room. Best to you and your lovely daughter (who I hope was not bored out of her mind with all the lawyer jokes!)
 –Kate
Professor Kate Stith
Lafayette S. Foster Professor of Law
Yale Law School
Jay and Patti Baker, Trustee Portrait
The Wharton School, University of Pennsylvania.
40" x 54"
Oil on Belgian Linen
2009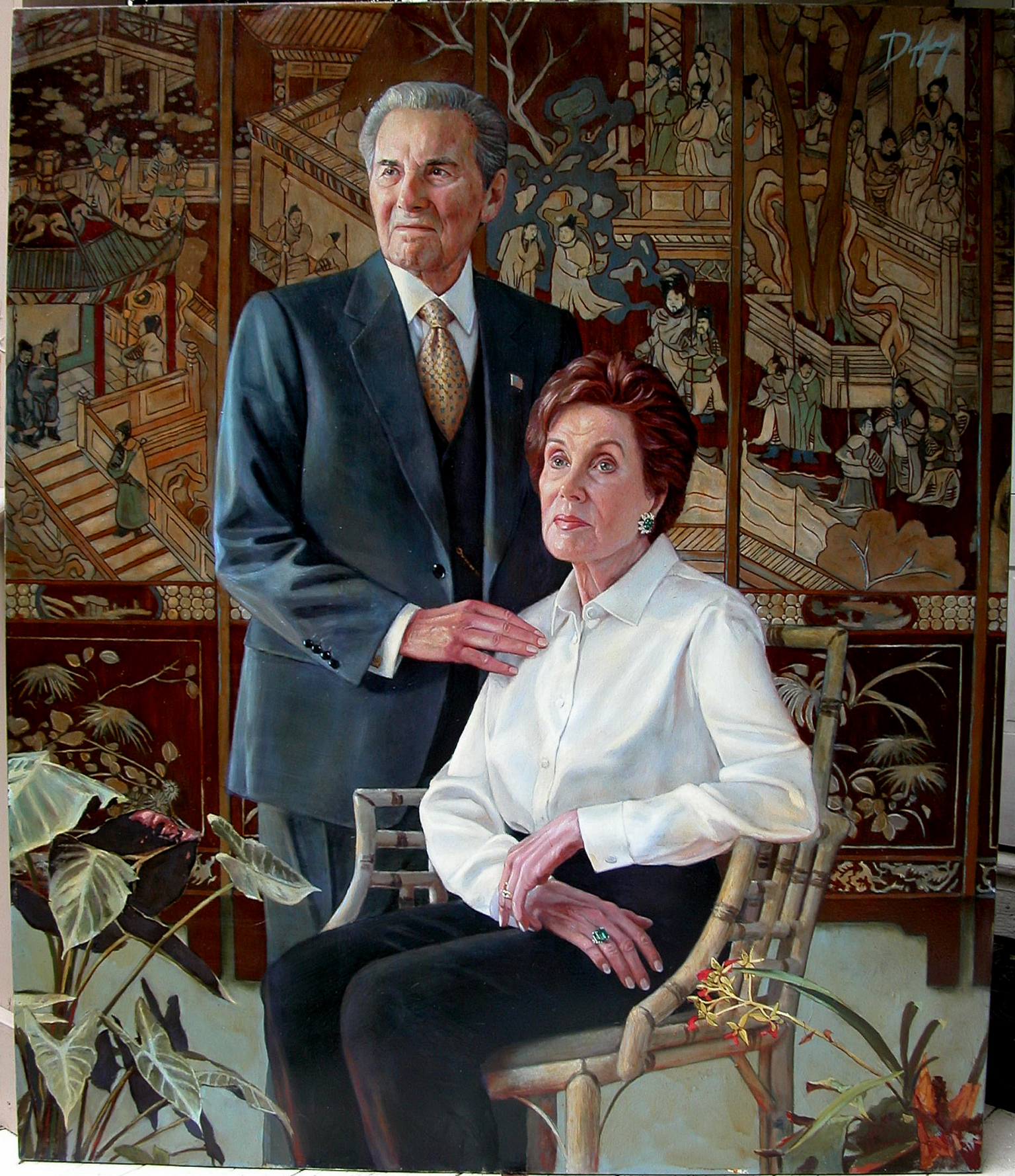 Martin and Helen Kimmel
Kimmel Center for Student Life at New York University
68" x50"
oil on Belgian linen
2008
Robert and Penny Fox
Robert and Penny Fox Pavillion, University of Pennsylvania School of Government
40" x 52"
oil on Belgian linen
2015
Jay Furman, Trustee
oil on canvas, 48"x54", 144cmx152cm, Furman Center, New York University School of Law, Greenwich Village, New York City
John Simon, Professor, Yale Law School
oil on canvas, 38"x54", 97x142cm
John E Sexton, Dean, NYU Law School
oil on canvas, 44"x50", 112x127cm
James Thomas, Yale Law School
graphite on paper, 16"x20", 40x50cm
Harry Schenck, MD, UPENN School of Medicine
graphite on paper, 11"x14", 27x36cm
Jose Cabranes, Appelate Judge
graphite on paper, 16"x20", 41x52cm